Where Every Day is a New Adventure!
Within our Special Themes we offer: gymnastics, rock climbing, music, cooperative fun and games, crafts, indoor soft play, running, climbing, swinging.. Gymnastics.. the Basic Training for ALL Sports.
Register for  Day Camp Fun
Sign up for 1, 2, 3, 4, or 5 days per week
Week 1  Ages 3-12
9:00 – Noon or 9 – 1:00pm
(Must be 3.5 yrs. old, toilet trained and self-sufficient in the restroom)
Weeks 2-8
9:00-12:00pm or 9:00-1:00pm Ages 3.5-12
9:00-4:00pm Ages 6-12
1:00-4:00pm Ages 6-18 Great for TNT's (Tumbling and Trampoline)
Campers are grouped by age and ability
* Pre-registration recommended
Register for Classes!
We still have openings for our classes!  Register your child today!

Sizzlin' Summer Day Camps
Family Rate Discount for Full Week Only. 1st Child $10 off / 2nd Child $15 off / 3rd child $20 off
9a - 12p
Weekly Rate: $185
Daily Rate: $43
9a - 1p
Weekly Rate: $220
Daily Rate: $54
9a - 4p
Weekly Rate: $320
Daily Rate: $76
1a - 4p
Weekly Rate: $185
Daily Rate: $43
Available Time Slots
| | |
| --- | --- |
| Week 1 | 9-12pm or 9-1pm Only |
| Week 2 | All time slots available |
| Week 3 | All time slots available |
| Week 4 | All time slots available |
| Week 5 | All time slots available |
| Week 6 | All time slots available |
| Week 7 | All time slots available |
| Week 8 | All time slots available |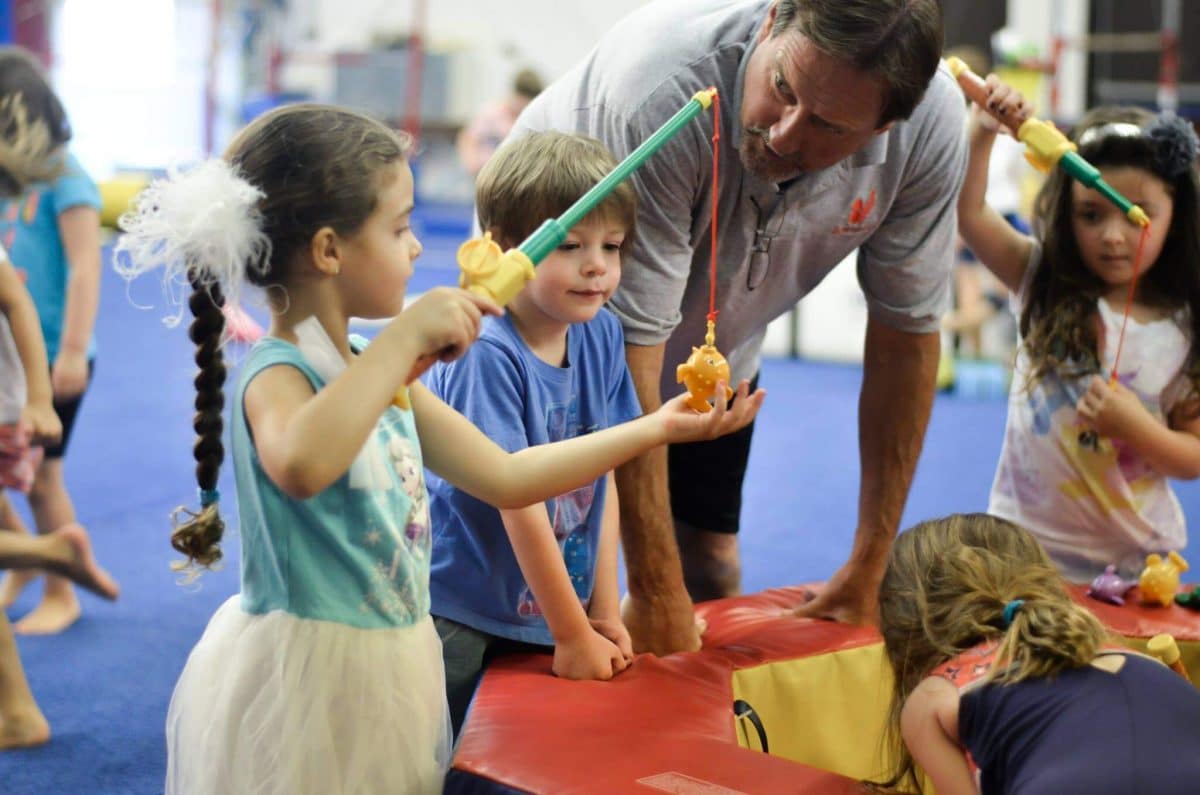 A Typical FULL Day: 9 – 4pm
9 – 9:15am
Warm – Ups & Cooperative Games
9:15 – 10:45am
Gymnastic Rotations
10:45 – 11am
Snack & Juices
11 – 12pm
Crafts or KidsQuest (indoor soft play), RockQuest (indoor rock climbing), Sports, Dance, Musical Activities
12 – 1pm
Brown Bag Lunch & Board Games
1 – 1:30pm
Demonstrations (varying topics)
1:30 – 3:30pm
Gymnastic Rotations or Crafts, KidsQuest, RockQuest, Ropes Courses, Sports, Challenges
3:30 – 4pm
Cooperative Games
A Typical HALF Day:
9 – 12pm or 1 – 4pm

9 – 9:15am
Warm – Ups & Cooperative Games
1 – 1:15pm
9:15 – 10:45am
Gymnastic Rotations
1:15 – 2:45pm
10:45 – 11am
Snack & Juices
2:45 – 3pm
11 – 12pm
Crafts or KidsQuest (indoor soft play), RockQuest (indoor rock climbing), Dance, Musical Activities, Tumbling & Trampoline
3 – 4pm